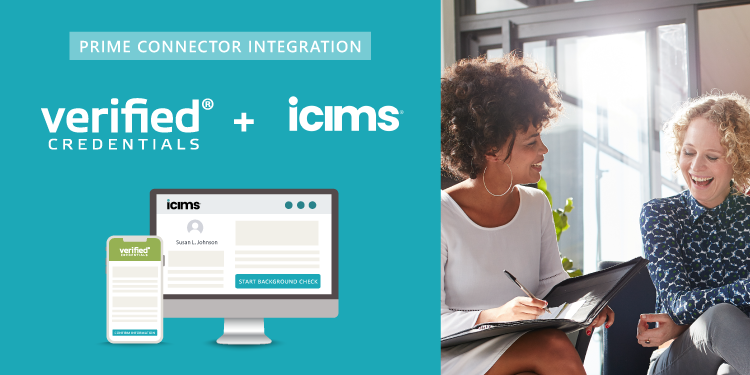 Many organizations choose to integrate their background checks with applicant tracking systems (ATS) to increase efficiency for HR processes. That's why Verified Credentials connects with leading technology partners, including iCIMS, which just became easier. It is one more way we put our clients first, providing high-efficiency, simplified background screening solutions.
Verified Credentials recently completed an enhanced integration with iCIMS talent acquisition software. As a Prime Connector, Verified Credentials makes getting your background checks in a single system easier than ever. Verified Credentials' Prime integration with iCIMS puts all your candidate information at your fingertips to help you make smarter hiring decisions. Let's take a closer look at how our Prime background screening integration could potentially help you qualify candidates faster with centralized screening solutions.
New Prime Background Screening Integration
Verified Credentials first integrated with iCIMS in 2013. But the new Prime connection takes things to the next level. As an iCIMS Prime Connector, Verified Credentials can simplify integration setup to connect employers to our background checks even faster in their iCIMS dashboard.
You can order, track, and view background check reports from Verified Credentials without leaving your iCIMS dashboard. Access all your most crucial candidate information directly within the iCIMS interface. This may save you time clicking back-and-forth between screens.
With the enhanced integration, your iCIMS account is now your single source hub for all things background checks. Easily place orders from your screening tab. And with integrated systems, there's no lag time between order placement and when we start background checks. Real-time tracking gives you instant access to the status of checks. This allows you to keep both hiring managers and candidates informed during every step of the hiring process.
Ready-to-Implement Tools Help Qualify Candidates Faster
There are more than digital orders and status updates to gain. Connecting background checks with iCIMS could improve the candidate experience and simplify workflow for employers. Here are just some of the potential benefits the Prime background screening integration can bring to your hiring processes:
Pre-populated candidate information – A good candidate experience is vital. The iCIMS integration could help because candidates only need to enter data once. Their personal details used for initial application pre-populates for screening orders. Plus, this may help save time, reduce errors, and make it easier to process any volume of candidates.
Mobile-friendly candidate experience – The positive candidate experience doesn't stop at pre-populated data. Candidates often need to provide additional information for their background checks. We make that easy! iCIMS sends candidates to our candidate portal to provide details on the go from any device. The intuitive user interface optimized for any screen and built-in support keeps them informed throughout the process.
Easy setup & responsive packages – The new iCIMS Prime Connection makes getting started with your integration easier than ever. We've already done the work to make it as simple as flipping a switch. And after the initial setup, you may need to change what background checks are available for your iCIMS users to order. Verified Credentials Prime solution simplifies this process too. Any changes you make to your screening packages are live within 24 hours in iCIMS. No additional steps or lag time!
End-to-End Hiring Workflow with iCIMS
In today's hiring environment, HR professionals don't have time to waste on redundant processes. The good news is that you may be able to simplify things with the right technology. Using Verified Credentials' Prime background screening integration with iCIMS could potentially help you save time and reduce complexity in your hiring process. A single system means hiring managers may be able to easily find final background check reports and view live status updates directly in your iCIMS account.
Interested in learning more about integrating your background checks with iCIMS? Connect with Verified Credentials to learn more or sign up for a demo today.