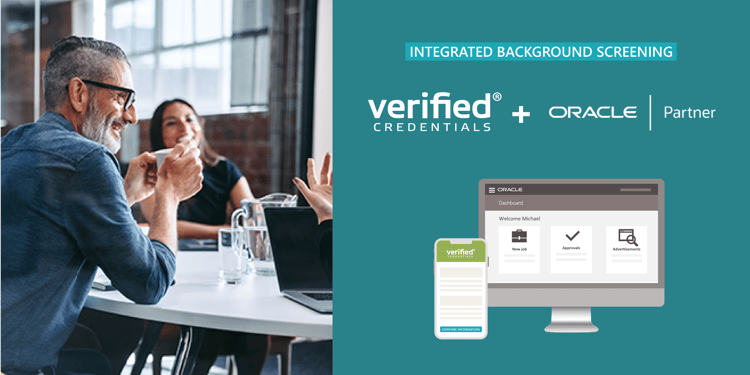 Verified Credentials, a trusted background screening provider and Oracle Gold Partner, now offers another integration within the Oracle Cloud HCM suite. Verified Credentials has paired our on-demand background screening solutions with Oracle Recruiting Cloud, an applicant tracking system within the Oracle HCM Cloud suite. This extension of our partnership makes it simple for teams that already use, or plan to use, Oracle Recruiting Cloud to seamlessly connect their Verified Credentials background checks.
Oracle Recruiting Cloud enables employers to track and measure complete candidate information across the HR spectrum. Paired with our proprietary technology and reliable background checks, employers can create a better hiring experience from start to finish. Once our team helps you get everything up and running, your team can potentially save money, time, and even yield better-fitting candidates.
Seamless Screening in a Fast-Growing Talent Platform
Employers familiar with Oracle's Taleo solution may have made the switch and migrated to Oracle Recruiting with user-friendly integrations within the HCM suite. Over the past few years, Oracle has replaced the use of Taleo with its forward-looking, modern functionality available in Recruiting Cloud.
Oracle Recruiting Cloud leverages data-driven approaches and a mobile-friendly interface. The platform allows users to source and engage candidates and apply business insights to help hiring managers and HR make hiring decisions. Verified Credentials' background screening solutions link directly with Oracle Recruiting to help maintain an uncomplicated workflow with custom preset screening packages and more. HR teams can establish screening packages based on their candidate pools and organization needs. With integrated systems, those screening packages are available to order directly from your Oracle dashboard, with just a few clicks. That's not all though. Verified Credentials' integration with Oracle Recruiting Cloud has other benefits too:
Provide a mobile-first experience: Our integration allows users to see everything straight from their Oracle dashboard for mobile. Candidates get a premium mobile experience, too! They can access their updates and submit information for their screening application straight from their mobile devices with our user-friendly, mobile-optimized candidate portal.
Retain more candidates: Verified Credentials provides custom candidate notifications, and an employer-branded candidate portal can create a quicker and more positive candidate experience. Relevant fields of information filled out by candidates are also carried over automatically from their Oracle profile into the screening process, which may reduce candidate frustration and the time spent re-entering data. And applicants with a positive candidate experience can be more likely

to accept a job offer.

See more in less time:

You can only be in one place at a time. The good news is that's all it takes with our integration with your Oracle account. Instead of logging into multiple systems, you can get all your hiring data directly in Oracle. No more switching back and forth between screens or systems to get all the relevant information for a single candidate. Plus, get status updates and final reports there, too.
Background Screening, Fully Integrated
The decision to implement an applicant tracking system (ATS) helps simplify background screening and may prop up strategic, agile, and consistent hiring practices. It isn't just about convenience; the right tech can create a better candidate experience and help ensure that you are getting the results you need from your screening processes.
With integrated solutions like Verified Credentials background checks and Oracle's Recruiting Cloud, employers can make more informed hiring decisions with ease from start to finish. Utilizing complementary features for managing your workforce directly from your Oracle dashboard, Verified Credentials enables you to order, track, and view background check reports in a unified and time-saving workflow.
Learn more about Verified Credentials integration with Oracle Recruiting Cloud ››
Interested in learning more about integrating your background checks with Oracle Recruiting Cloud? Connect with Verified Credentials to discover more ››