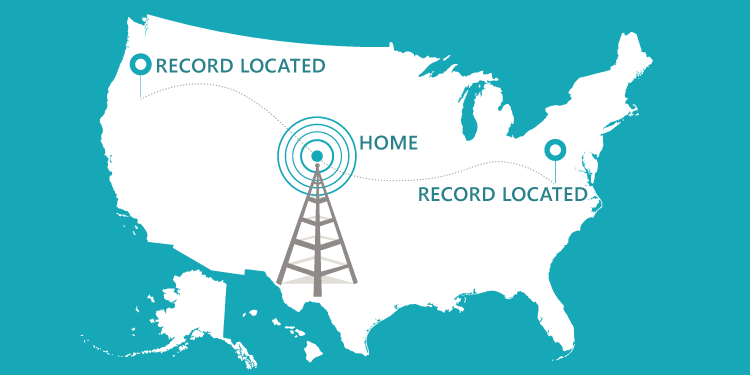 Big data's homing signal is strong. Faster, more accurate background screening demands better sources of digital records. Growing criminal history information sources are wrapped up in electronic databases. Some may want to find a single source of data for criminal history background checks. And why wouldn't they? The problem: there is no all-inclusive or government-mandated source of all criminal records in the United States. One potential solution is to layer criminal history searches: county, state and federal criminal searches. What's another way to expand your criminal search?
Instead of only searching "state by state" or "county by county," another option could be to use a national criminal database search to search throughout the entire country. It's a great way to broaden where you search and can help you look at a vast number of multi-jurisdictional resources quickly. The database can locate additional places to search beyond an applicant's self-disclosed address history. Let's look at how the search can help reveal undisclosed locations where relevant criminal records may exist.
Broad Resource for Background Reports
Most background checks begin with the information a candidate fills out on screening forms. They may list out current and previous residences. The candidate's disclosed addresses could become known search areas for county, statewide, or other criminal history checks. That said, relevant criminal history information may not be limited to only known search areas.
You may think, "There can't be that many crimes that occur outside a current county of residence." Think again. Our internal research found that 63% of potential records found by national criminal database searches are in locations not disclosed by candidates or revealed by an ID Trace search. That means over half of potential criminal records that exist could be outside of locations where a candidate lives or has lived. On-the-road and out-of-state offenses could be far-fetched to locate without this tool.
A national criminal database search identifies tips and leads to help find potential records in conjunction with additional county and state searches. It allows you to instantly search across widespread locations and sources, casting a wide net nationwide. This helps employers fill potential gaps left by specific county and state searches. You get that extra level of insight to find those unexpected search areas.
Mighty Tool for Multi-Jurisdictional Searches
Sources vary from one background screening company to the next. Verified Credentials' national criminal database search draws from over 500 million records. You can access a huge array of sources in one search. This resource includes information from over 1,000 unique sources.
Sources include:
Department of Corrections
Departments of Public Safety
State and County Courts
Sex Offender Registries
And More
That's what you can get from the search. At face value, this is a database search, not a live search of real-time records. Let's not forget, a national criminal database search is not an instant background check. At least not when a potential record is found. Results from a national criminal database search should be validated. At Verified Credentials, primary source records are obtained in subsequent county or state criminal history searches to validate the accuracy of potential records revealed by a national criminal database search. Quality checks like this help match potential records to a candidate before it shows up on a candidate's background report.
Improving a National Criminal Database Search
There are ways you can improve the way you use a national criminal database. Searching far and wide for relevant records can benefit from the search. Here are some questions you can ask yourself:
Is the Search Used in Every Background Check? Our user data finds only 2 out of 10 employers do not use a national criminal database search. If you do not currently include this source to locate potential criminal record information, you may miss some relevant criminal records.
Are Multiple Names Used on the Database? Additional names revealed by an ID Trace search can be used to expand a national criminal database search. When used with additional names, the national criminal database search could help you create an expansive background check.
Can the Search Help Update Employee Rechecks? More employers are updating employee background checks on a recurring basis. Our research found use of criminal history searches, including national criminal database searches, to recheck employees increased by 450% between 2019 and 2020.
Let a national criminal database search rake through millions of records for you. You can probe state and county jurisdictions, but it is far from reasonable to search them all. When big data dominates, a national criminal database search could help you find more records top-to-bottom nationwide. Searching sprawling sources of potential records is an easy way to go where the records are.
Have questions about a national criminal database search? Talk with the Verified Credentials team to learn more.