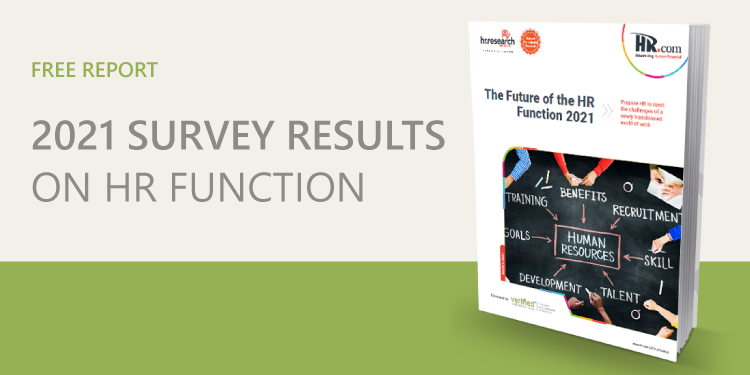 2020 sure sent some of us scrambling. But HR leaders adapted quickly to shifting workforce and business needs. Many have still not returned to the way work was before the pandemic. More and more, we hear that they may never return to work in the same way as years before. HR teams are moving forward with a renewed look at the roles they have.
The HR Research Institute surveyed HR professionals about their current priorities and concerns and what they anticipate for the future. In partnership with Verified Credentials, HR.com published the survey findings in The Future of the HR Function 2021 report. The data collected highlighted trends in:
Where HR fits within the organization
High-use skills & skill gaps
Critical functions for the future
HR Is a Central Part of the Organization
HR sits as a vital player in each organization. You source and maintain the, arguably, most critical input of a business – the talent. Survey data showed that many organizational leaders agree. Less than a quarter of HR leaders said they aren't involved in their organization's strategy process. Input into business goals and the process to achieve them shows just how important the role of HR is to the larger picture. That may also be why more than half of surveyed HR department heads report directly to top company leader(s). This access indicates that they know the value of staying in tune with the department.
Download the full report to learn how HR leaders rank their ability to meet organizational needs ››
HR Has Serious Skills – But Could Use More
It's no secret that HR roles require wearing many hats. And each function of HR requires several skills. In a recent webcast, Verified Credentials addressed skills related to background screening like planning skills for a successful screening process. It's no surprise that the professionals that fill HR roles must have a wide range of skills for success.
But survey data shows that HR professionals feel they may be lagging in the skills they anticipate needing for the future. What skills may HR departments need some help with? Responses indicate that some of the most significant skill gaps include:
Leveraging data and analytics
Improving the employee experience
Advancing diversity, equity, and inclusion
Using tools to address these could be a good way to begin closing gaps. The technology you already use might already have what you need. For example, Verified Credentials background screening management system gives you access to on-demand reports. You can get data at any time in a format that is each to digest and understand how your screening is performing.
Skills gaps shouldn't leave you feeling discouraged. These offer opportunities for HR professional growth. More promising yet, survey results show that these skills relate to new areas of focus for HR departments.
See the full list of trending HR skills when you download the report ››
Functions of the Future (but Also Now)
The critical HR functions of the day fluctuate with larger organizational goals. So it's not super surprising HR professionals believe these will be the top functions over the next two years:
Diversity, equity, and inclusion
Leadership development
Change management
Analytics and metrics
The good news, about half of the HR professionals surveyed already feel they are ready to succeed in the next two years. And with HR technology making more of an impact, those that don't feel as confident have options to help them out. Nearly 50 percent responded that technology will play a more prominent role in analytics and metrics, automation of HR activities, and learning in the next couple of years. In background screening we've already seen technology leveraged for increased automation for order placement, candidate communication, and more.
This survey shows that HR is looking forward with some big to-do items. As the last year proved, the agility of HR teams allows them to pivot quickly and take on new challenges when needed. Read everything the HR Research Institute survey found by downloading the complete report.
Looking for a background check solution to add to your HR technology stack? Learn more about how Verified Credentials has the systems and tools to meet any needs.