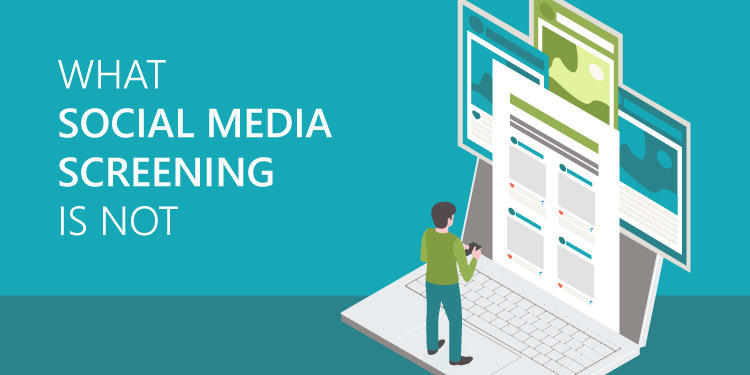 As a result of the widespread usage of social media, there has been increased interest in recent years regarding the new era of social media screening. Social media screening has become a vital component of the hiring process for businesses everywhere. This helpful tool has the potential to allow companies to see prospective candidates through a new lens, highlighting which people might be an ideal fit for their values and which might not. Screening social media on the front of the funnel may directly impact a company's retention and engagement strategy by capturing potentially concerning content right out of the gate.
This relatively new tool could prove valuable for HR pros and hiring managers. New to some of our clients, social media screening brings up some concerns employers may have when factoring a new type of background information screening into their hiring decisions. Verified Credentials recently engaged with an expert in social media screening to help dispel concerns and empower employers to confidently add social media screening to the mix.
Verified Credentials recently sat down to discuss the exciting possibilities and lingering concerns with Ben Mones, the CEO and founder of social media screening provider Fama. Together they break down the nuts and bolts of social media screening. To understand the true potential of social media screening and why it has become a go-to for businesses, it is essential to understand what it is not.
1. It Is Not A "Score"
In the interview with Verified Credentials, Mones explains that social media screening is another way for employers to cull through publicly available insights already online. This readily available information allows organizations to gain a different perspective on who might be coming on board. He says, "It is not a score. It is not a thumbs-up or thumbs-down. It is not a yes or a no or a recommendation on a candidate based on what they tweeted, what they posted, how many restaurant check-ins they have, or pictures of their dog. That's not what this is. It's much more a question: Is this person posting things that might be intolerant, threatening, or harassing?"
The point is to spot potentially concerning content that could be indicative of a serious incident or a pattern of posts that are in opposition to your company values or culture.
2.

It Is Not Singling Anyone Out
In their discussion, Verified Credentials brought up a valuable point. "…we see some employers wondering if this is an invasion of someone's privacy and that candidates may see this as singling them out. What would you say to help them understand that it's concerning the content that is explicitly being looked for?"
Mones explains that there are a few pieces to this. First, this is all publicly available information. There is no "friending" or asking for usernames or passwords. Secondly, , you may already be getting the candidate's written authorization to obtain the background report. Then candidates may understand this is part of the screening process rather than feeling their privacy is invaded.
It's not about individual hiring managers scanning the web. It's about creating a consistent, uniform process for all candidates and employees.
3. It Is Not a 100% Computerized Process
While there is a human touch in the process, it doesn't mean that social media screening requires extra work from employers. All that is required is the identifying information provided by the candidate.
In partnership with screening providers, companies like Fama specialize in finding social media results about a subject based on the candidate identifiers provided. When results are found, an analyst manually confirms that the results match the subject in question. Technology makes a job more manageable. Mones states, "Technology makes a job easier, but a person goes in and confirms that the results belong to the subject in question, which is not unlike other types of background checks where people are still involved to ensure accuracy.".
4. It Is Not Slowing Down
According to Mones, just eight years ago, research showed that roughly 44 percent of employers were doing some form of social media screening—which he says meant that they were Googling potential job candidates.
Ultimately, the way that companies screen employees has changed quite a bit over the last decade. It even looks a lot different from just five years back. And social media screening has played a crucial role in this evolution. With so many people using social media, screening could be a practical approach to finding the right people to retain and may highlight the ones that don't align with company values. Almost 80 percent of companies are using some form of screening. Whether they are looking to identify someone who aligns with their values or if they want to avoid hiring someone who may create a toxic workplace. Many hiring managers and HR pros have found that social media screening is a useful tool. And the best part? It is centralized in the Verified Credentials screening process - just add to your existing package, or get one now!
Contact Verified Credentials to see if social media screening is the right addition to your screening strategy. We can help you design a background check program that helps support your unique talent acquisition goals.